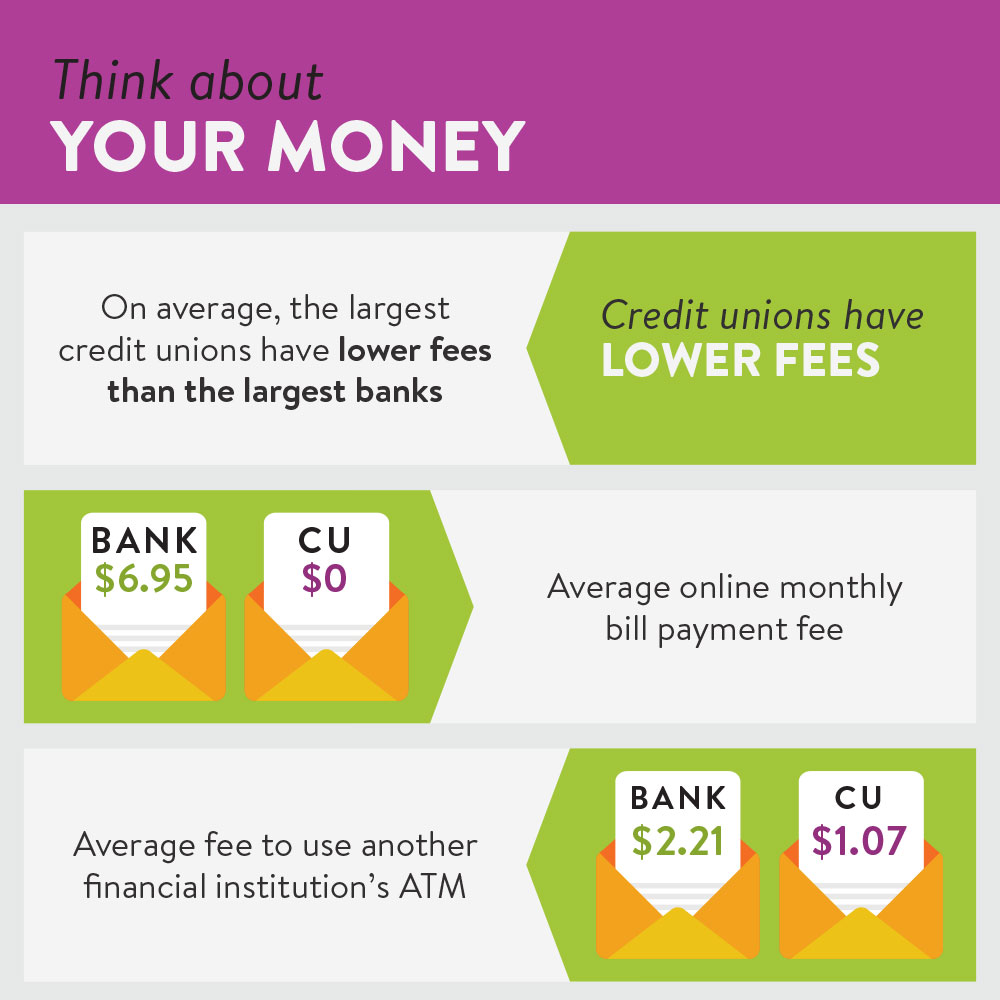 Credit Unions & Banks are the same thing – right?
Wrong.
From the outside, a credit union looks just like a bank: rows of teller windows, drive-through lanes and attractive lobbies. But within those walls are some key differences that separate credit unions from banks. Here are just a few differences between a credit union and a bank.
One key difference is that a credit union is a not-for-profit financial cooperative. Credit union earnings are distributed back to members, usually charge lower fees than banks and pay higher rates of return on savings accounts, money market accounts, interest earning checking accounts and certificates of deposits.
Banks are larger corporations that are owned and controlled by stockholders, while credit unions are member-owned. A credit union is a cooperative, which means it is owned and operated by its members. Your initial membership deposit makes you a part owner of the credit union and gives you a say in the credit union's decisions. While credit unions do have a board of directors, they are elected members who volunteer. Credit Union Board members are responsible for setting policies, approving budgets, and helping to direct strategic planning. They evaluate operations and maintain financial performance standards for the credit union.
Another difference between credit unions and banks is who uses them. Credit unions have a field of membership, while banks are open to the public. Some credit unions are only open to certain employers or locations. Fort Worth Community Credit Union is open to anyone who lives, works or goes to school in Tarrant, Parker, Johnson and Denton counties.
Two different agencies provide deposit insurance to credit union and bank customers. The Federal Deposit Insurance Corporation (FDIC) insures deposits at almost all banks, whereas the National Credit Union Administration (NCUA) insures deposits at all federal credit unions and most state credit unions. In both cases, funds are insured up to $250,000, depending on your type of account and the number of people who own it.
Credit unions and banks both provide financial services. Their common goal is to serve customers or members. They provide many of the same products, services and benefits (savings, checking and loans). However, due to the unique membership structure of a credit union, all members have an equal vote in decisions made by the credit union. Therefore, the credit union has more incentive to provide low rates, fees, and great customer service. If you still have questions between the differences or similarities stop in at a local branch today!
This was written by Glysson Herrera, FTWCCU Financial Services Assistant.