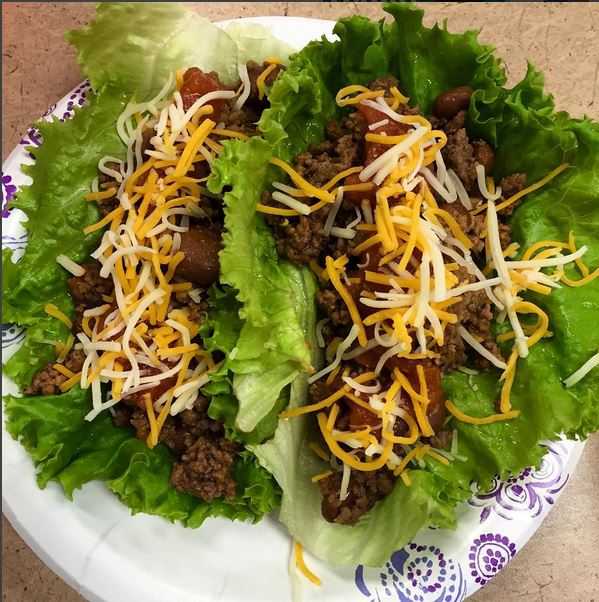 Cheap & Easy Meals: Taco Tuesday Edition
Going to every Happy Hour and Taco Tuesday, might seem like you're saving money, but in all honesty, you're not saving much. $5 for a taco plate sounds like a steal, but guess what? You can make them at home for even cheaper. Here are a few of my favorite "at-home Taco Tuesday" recipes:
Ground Turkey Taco Lettuce Wraps
This one is super simple and really quick, if you are short on time.
You'll need:
1lb of ground turkey
1 can of Rotel- flavor of your choice
Head of lettuce
Cumin, Paprika, Red Pepper – all to flavor
Shredded Cheese, Sour Cream, Salsa, Avocado (for toppings)
Directions:
Start by browning your ground turkey. While it's cooking, go ahead and rinse the head of lettuce and pull off some caps and set them aside.
Once your turkey is brown, drain it and return it to the pan.  Add 1 can of Rotel, your spices to flavor and some Verde salsa. Let simmer for three to four minutes.
Add your turkey to your lettuce caps and top them with cheese, sour cream, salsa, avocado. Whatever you want!
Enjoy!
Grilled Chicken (or Fish) Tacos with Lime Cabbage Slaw
For the tacos, you'll need:
1lb Chicken or fish of your choice (I suggest Tilapia, Cod or Mahi Mahi)
2 Tbsp Canola Oil
1 ½ Tbsp fresh lime juice
1 clove of minced garlic
1 ½ tsp chili powder
½ tsp ground cumin
½ tsp ground paprika
1/8 tsp cayenne pepper (this is optional, but I prefer spicy foods so I add a little more)
Salt and pepper
Corn or Flour tortillas
1 large Hass Avocado, sliced
Sour cream, Cotija cheese, hot sauce or salsa- all for serving options
For the slaw, you'll need:
½ small red cabbage, cored and sliced thin (8oz)
¼ cup cilantro, chopped
¾ thinly sliced red onion (run under cool water and drain to remove harsh bite)
1 ½ Tbsp lime juice
1 Tbsp canola oil
Directions:
In a mixing bowl, whisk together Canola oil, lime juice, garlic, chili powder, cumin, cayenne and season with salt and pepper to taste.
Place chicken or fish in gallon size re-sealable bag and pour marinade over chicken. Seal the bag and move it around to evenly coat the chicken. Allow the chicken to marinate in the mixture about 20 minutes. (The longer you let it marinate, the more flavor it will have!)
Cook chicken on the stove top (or a grill) for about 4 minutes on each side (depending on the thickness of the chicken) and cut into ½ inch cubes.
Add sliced cabbage, onion and cilantro to a medium mixing bowl. Pour lime juice and canola oil over top and season lightly with salt and pepper. Add a lid and toss to evenly coat.
Serve your diced chicken in a warm tortilla with cabbage slaw, sliced avocado, and any other additional toppings.
Depending on where you shop, 1 lb of ground turkey is about $3. Chicken breast is closer to $4. But both of these recipes make multiple servings. So split the cost of groceries with a friend or save the leftovers for later. Either way, save your money for something better… Like a new car! Or start an emergency fund!
This blog was written by FTWCCU Marketing/Digital Commerce Assistant, Sammie Arriola.