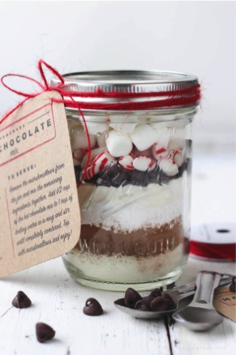 Gift Guide for the [broke] College Student
Finals are over *yay*, but now the stress of holiday gift-giving has taken its place. How do you share the love while maintaining your minimal budget? Let me introduce you to my three best friends D, I, & Y.
Introducing the Mason jar:
This guy never fails and has close to infinite gift idea combinations. Give the gift of a treat by adding ingredients to the jar and tying on the recipe, or simply fill it with some Christmas candy and finish it off with a festive ribbon!
Personalized coffee mugs:

These are the perfect gift for anyone. Using an oil-based sharpie, you can decorate these mugs from the dollar store how ever you like. The best part is that you're only spending ONE DOLLAR per gift! Make sure to leave them in the oven at 350 degrees for 20-30 minutes to set the design!
Baking sets:
Baking sets are really great gifts for the bakers in your life! You can never have too many pot holders or utensils and who doesn't like a sweet treat?! Hit up the dollar store for each of these items as well!
Spa sets:

Spa sets are good for bringing the spa to someone when you can't afford to take them to one! Fill some slippers with soaps, lotions, nail polish, and a DIY sugar scrub out of sugar and coconut oil and call it a day! 

Food:

What more can I say? Wrap it up in a bundle and give the gift anyone would use!
Personal photo frames:

These give the ultimate gift of love. Stick a picture of you and your loved one, and border it with reasons why you love them! *blushing* 

Last but not least, let me tell you about this little piece of budget friendly heaven called Five Below.
This store is filled with almost everything and guess what? It's all $5 or less! They have anything from shirts to Bluetooth speakers to endless candy aisles, making this the perfect gift buying store!
Take your gifts to the next level by making them personal, unique, and budget-friendly! Don't allow the pressure of gift- giving to throw you into a month of hurt financially!
This post was written by FTWCCU employee, Brittney Goolsby.